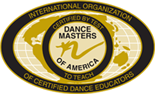 Chris Collins Dance Studio is proud to be a member of Dance Masters of America.
In February, Mid-Atlantic Dance Masters Chapter 17 held a competition for solos only. Many of our students debuted new routines and all gave amazing performances!!
Congratulations to all of our solo performers! A special shout out to the following students who received special judges' recognition award: Hannah Arleth, George Gross, Mira Henry, Mason Hopper, Hayley Lookadoo, Evie Muntu, Mia Muntu, Mimi Najafzadeh, and Kailah Doles who received two separate judges recognition awards!
Bravo to MIA MUNTU who was the highest scoring soloist overall in the 15-16 division! Congratulations also to the following students who were in the top ten overalls in their divisions: Christina Bujoreanu, Kailah Doles, Amani Muntu, Evie Muntu, and Piper Kelly.
The top choreographer award for teen solos was presented to our choreographer Meghan Everett!
It was a freezing winter weekend, but the CCDS students were on fire on stage!!!