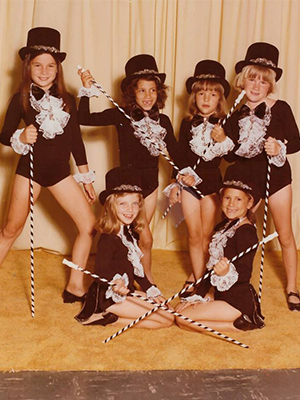 The early years
The dance studio first opened in the fall of 1975 and classes were held in an empty classroom of the old Blessed Sacrament School. Classes were only $16.00 per month. The first small recital was held at an elementary school on June 11, 1977. Tickets were $1.50! All of the students were basically beginners of different ages, but, they were ready and excited for Showtime 1977!
We ordered simple costumes, made some scenery, set the black lights out on the stage and got the record player and one speaker set up. The production was a success! In the fall of 1977, the first storefront location of CCDS opened on Quaker Lane in the Fairlington section of Alexandria. Additional teachers and classes were added in following years, but, with one small teaching room, classes filled quickly. In addition to the core subjects of tap, jazz, ballet, and acro, classes were also offered in baton twirling and unicycling. (Not to mention the adult Saturday night disco classes.) Our first "show groups" were formed, and they did many local performances. By 1981, enrollment increased to the point where we started having two performances of our Showtime recital. We outgrew the small studio and moved to Shirlington in the summer of 1981.
Many of today's traditions were born during this era.
---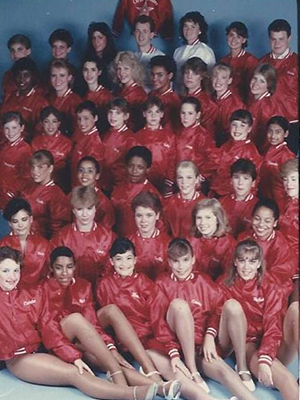 1982–1986
The new location had two dance rooms on different floors of the building. With extra space, we added more adult dance and aerobics classes. We also added classes in Hawaiian, Tahitian, and roller disco!! Our small show group became a larger Performing Troupe and began dancing competitively. They traveled to Atlantic City for Showstopper Nationals and for several summers spent fun-filled weeks in Ocean City, MD. When the Shirlington area started undergoing renovation in 1984, we moved the dance studio to South Pickett Street. At this location, roller disco was dropped in favor of weekend breakdance classes! In June 1986, we celebrated our first Decade of Dance! Now, all the music was on cassette tapes so what could possibly go wrong!!
---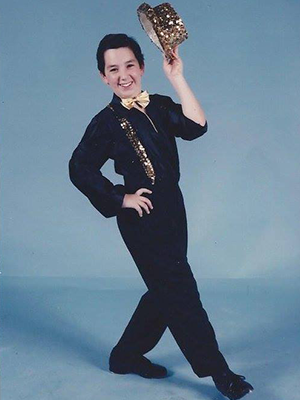 1987–1991
Our studio continued to grow while staying focused on the individual student. Our dance troupe became much more active. They performed regularly, and consistently earned top honors in tap at competitions. With several new teachers, our ballet program was strengthened and we added lyrical dance to our offerings. Although we no longer had breakdancing, there were now several pom pon dance classes. Alumni may remember this era as the time of shiny lycra tights, blue eye shadow, and French braids. After 15 years in the Alexandria community, a second location opened in 1990 in Prince William County, in the Tackett's Mill Shopping Center in Lake Ridge. Students from both locations combined to celebrate our 15th Showtime, with three performances of "Making Memories!"
---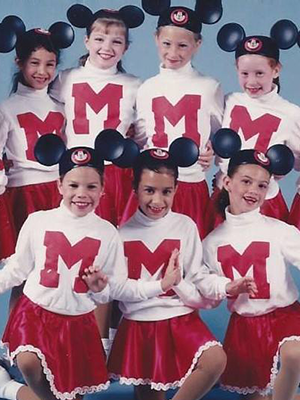 1992–1996
There were two rooms of classes in Lake Ridge and in Alexandria, full every day with dancers! In 1993, the Alexandria home had to be vacated to make room for the Home Depot. We moved to Van Dorn Station—which was our first Alexandria location specifically designed to be a dance studio. With two spacious rooms, classes continued to grow. Performing Troupe students from Van Dorn and Lake Ridge combined to perform and brought home many honors. In August 1995, Chris had the opportunity to take over the dance program at the Dale City Recreation Center. The Tackett's Mill Lake Ridge location closed and students continued to dance in Dale City and Alexandria. Three performances of our 20th anniversary Showtime, "That's Dancing," were held in June 1996.
---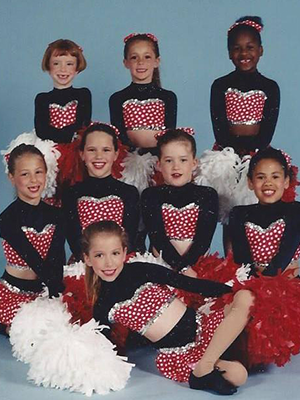 1997–2001
During these years, musical theater and hip hop were added to our curriculum. Perhaps the most important addition was our graded Cecchetti ballet program which has highly benefitted our students. French braids were gone and all [female] students were in buns! Some of our dancers were featured at Busch Gardens in Williamsburg and on the boardwalk in Wildwood, NJ. In June 2001, we celebrated "25 Years of Those Dancing Feet," and our music was now on CDs! After Showtime 2001, our Dance Troupe was off to their first performance in Disney World! Later that year, our dancers were asked to perform the award-winning routine God Bless the USA in Old Town Alexandria as the Olympic Torch passed through the city. In December 2001, our Dance Troupe traveled to NYC to see the Radio City Christmas Spectacular and take part in the Rockette Experience workshop!
---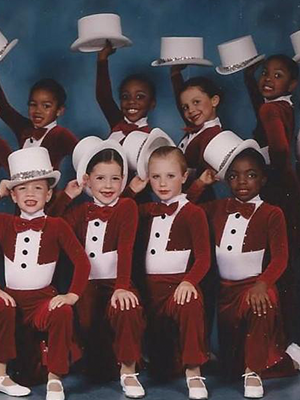 2002-2006
Our Performing Troupe evolved into the current Chris Collins Dance Company. The dance company had many new requirements and many more hours of dance per week. With continuity of teachers and a lot of student commitment, our dancers grew technically and as performers. In the summer of 2003, our Company dancers performed at Disney World and Universal Studios. We outgrew the two dance rooms at Van Dorn in Alexandria and in the fall of 2003 moved to our present location on Eisenhower Avenue. This space was carefully designed with the dancers in mind, with two rooms with sprung wood flooring and a third room (primarily for ballet) with Marley flooring. When we first moved in, it seemed so spacious. However, the third dance room filled quickly! In the summer of 2005, our dancers were featured at Hershey Park, PA. In June 2006, the studio celebrated thirty years with "The Beat Goes On." In the summer of 2006, our dancers were featured "Stars at Sea" on the Royal Caribbean Cruise Lines. They performed in international waters on the way to Bermuda! The cruise ship performance was definitely very memorable!
---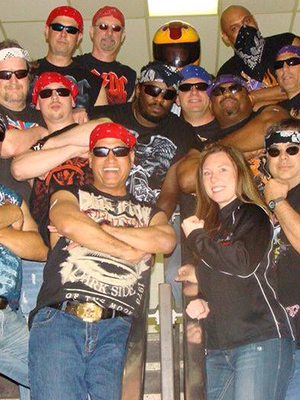 2007–2011
In the summer of 2007, our Dance Company was back in Orlando, performing at Disney World and Universal Studios. Our curriculum continued to evolve with the addition of rhythm tap and contemporary. In the last few years, our students received more recognition than ever and our teachers have received many high honors for choreography and entertainment. In the summer of 2010, our company dancers were top finalists at the Beyond the Stars Nationals in Cape May, NJ. In June 2011, the Chris Collins Dancers celebrated "35 Years of Fabulous Feet!" In summer 2011, the dancers had an encore performance at Disney World.
---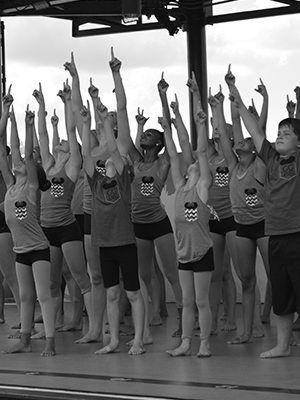 2012–2016
As members of Dance Masters of America and the Cecchetti Council of America, our staff continue to provide quality instruction in a positive atmosphere. In 2012, we had national title winners from Beyond the Stars in Atlantic City and we brought home many more honors from nationals in 2013 and 2014. In June 2015, CCDS had the only student on the east coast to pass the advance professional grade seven Ceccehtti exam. In the summer of 2015 we returned to perform at Walt Disney World with many students who had never been before. Our focus is not on competition, but on providing quality education in a positive family atmosphere.
A lot has changed in 40 years. Dance styles, costume styles, hair styles. In June 1977, who would have thought that someday all music would be digital and on a laptop or ipad? While we are extremely proud of our alumni, we are also very proud of our current CCDS dancers. Students learn a lot more than dance steps during their years at the studio. We are so proud of the CCDS family—on and off stage.
Although Mr. Chris teaches a lot fewer hours than he did years ago, he values a fantastic staff of motivational and dedicated teachers. CCDS is stronger than ever and the future is bright. As you can see, a lot changes in just five years' time.
What will the next chapter hold at Chris Collins Dance Studio? Join us and be a part of the fun! We have a great history and hope you will come make future memories with us.
---